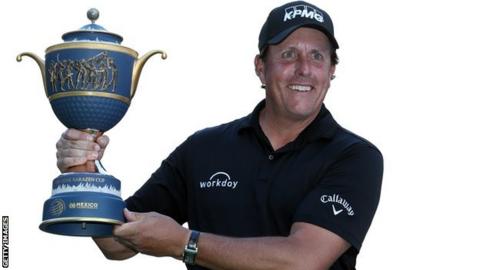 Until last week's stunning victory in Mexico, Phil Mickelson had spent the past four years as a frustrated and ageing outsider looking in on a winners' circle increasingly populated by younger golfers.
Mickelson, who turns 48 in June, has now proved he remains a champion player capable of landing the biggest titles. This despite being old enough to be the father of many of today's regular winners.
And, in the wake of his World Golf Championships triumph in a play-off against Justin Thomas – a man half his age, the veteran left-hander insists there are more wins on the horizon.
Mickelson is targeting a fourth Masters title, a first away win of an already epic Ryder Cup career and a half-century of PGA Tour triumphs. It is clear that his appetite for success is as insatiable as ever.
"I don't think that this is the apex or the peak," he said after his thrilling WGC victory, which capped probably the best tournament of the year to date.
Mickelson prevailed against Britain's Tyrrell Hatton (aged 26), Thomas (24) and the new Indian sensation Shubhankar Sharma, who at 21 was the youngest ever 54-hole leader at a WGC.
During the barren years, Mickelson dispensed with the services of coach Butch Harmon and career-long caddie Jim 'Bones' MacKay.
Under the tutelage of Andrew Getson he has fashioned a tighter, more consistent swing. But it is an action that remains more fluid than the norm, crucially putting less stress on his body and contributing greatly to his longevity as a leading professional.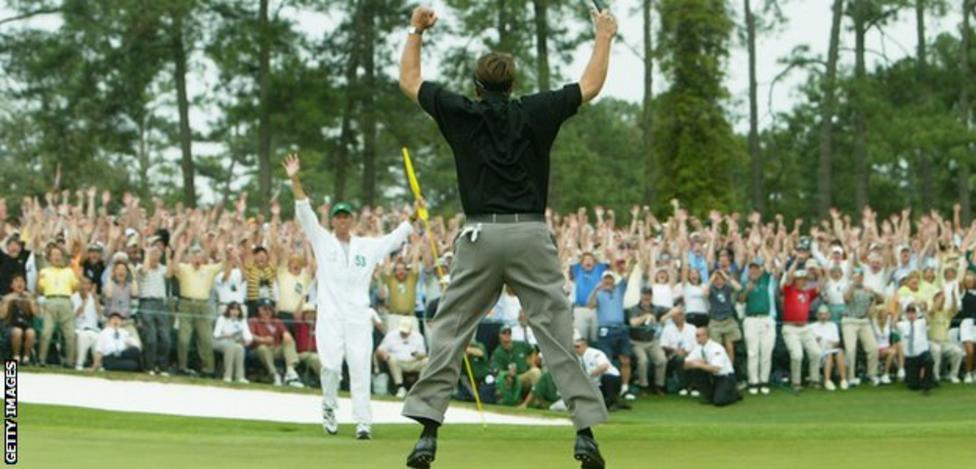 Mickelson has now returned to the world's top 20 and this was his fourth successive top-10 finish (all of them inside the top six) – a feat of consistency that has been beyond him since 2005.
Astonishingly, he has been a permanent fixture in the world's top 50 for a quarter of a century and despite 46 career wins worldwide it is abundantly clear he has no intention of excusing himself any time soon from dining at golf's top table.
"I'm going to continue to get better. I think I'm working on the right things," he said. "I knew it was going to happen, but having validation means a lot."
The 47-year-old added: "It's cool that not many people at this age are able to play at that level, but I don't feel that age.
"My body feels great. I'm starting to play some of my best golf. I'm actually hitting some shots better than I ever have in my career, I'm starting to putt better than I ever have in my career, and I'm actually starting to drive it better."
This victory sets Mickelson up perfectly for the year's first major – the Masters at Augusta next month. He will be looking to add to the titles he won in 2004,2006 and 2010.
"I needed to get a win before Augusta so I wasn't trying to win for the first time in four and a half, five years at that event," he said.
"This certainly boosts my confidence and gives me a lot of encouragement on the things I've been working on."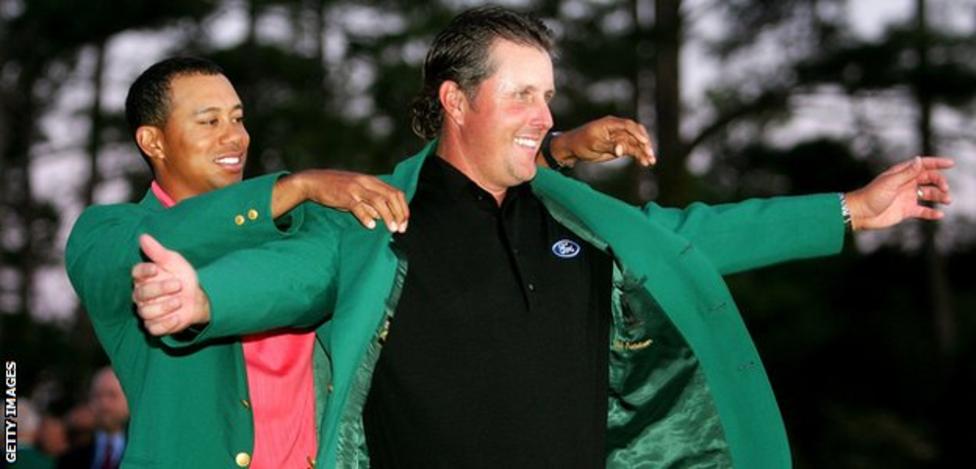 Mickelson's Mexico victory enhances his chances of qualifying for a 12th straight Ryder Cup. He made his debut in the Oak Hill defeat of 1995, and the Americans have since never posted an away victory.
This provides his biggest motivation. "I've made it known that one of my big goals is for me to be a part of a winning team in Europe," he said.
"It hasn't happened in my career. It would mean a tremendous amount to me to have us succeed over on European soil."
He accepts that his place in Jim Furyk's team for Le Golf National in September is not yet guaranteed, a prime reason why he remains determined to continue taking on the young guns of the game.
"I just view it as a great opportunity for me to compete against these great young players, whether it's today or whether it's watching Justin Thomas shoot 16 under on the weekend," he said in the aftermath of his Mexico triumph.
"And knowing how good Dustin Johnson and Jordan Spieth and Jon Rahm and [Rory] McIlroy and all these guys are, for me to be able to compete against them is a challenge that I cherish."
It also brings a key dynamic to what is already developing into an enthralling golfing year.
Mickelson's victory follows stirring wins for Thomas at PGA National in Florida and a resurgent Bubba Watson at the Riviera Club last month.
Tiger Woods looks fit and strong and is committed to play this week and next in a Floridian fortnight that should prepare him well for his own Augusta tilt. Make no mistake, the 14-time major champion will have noted Mickelson's latest triumph.
From a European perspective, Hatton showed he is ready to mix it on the game's biggest stages, harnessing his inner fury to mount a genuine challenge before finishing one stroke out of the play-off.
Justin Rose finished strongly in Mexico with a closing four-under-par 67 after shedding rust accumulated through a vital four-week break. Spaniards Sergio Garcia and Rafael Cabrera Bello also showed encouraging form.
The enigmatic McIlroy desperately needs to follow suit as he returns to action at the Innisbrook Resort this week. After that he will have only Bay Hill and the WGC Matchplay in Austin to complete his competitive preparation for the Masters, which starts on 5 April.
And into the global mix, it is also worth noting the rapid progress of Sharma, who already has two wins to his name this season.
The Indian youngster will be the star attraction at his home Open this week and at 66 in the world is on the cusp of making it into the elite Matchplay field in Texas later this month.