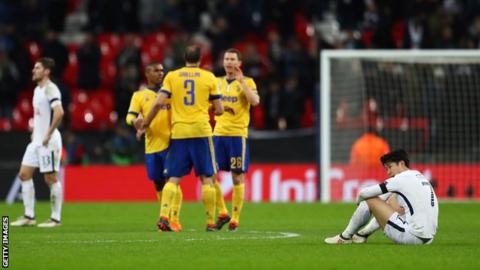 Tottenham walked out at Wembley with sights set on the Champions League quarter-finals – but ended the night beaten by the greater experience and ruthlessness of old campaigners Juventus.
Spurs controlled large portions of the last-16 tie but paid the price for switching off twice inside three minutes during the second leg to give last season's beaten finalists the chance to secure a 2-1 win on Wednesday and a 4-3 aggregate victory.
The result that came as a bitter disappointment to the English side and their supporters in the 84,010 crowd – and it is becoming a familiar tale under manager Mauricio Pochettino.
But the pain of this defeat could yet help to shape a successful future.
Same old story – but Spurs must not panic
The sound of Rag'n'Bone Man's Human over the Wembley public address system just after the final whistle was not meant to be ironic – but it might have been a hymn to the frailties that undermined Spurs once more.
For all the quality that runs through Pochettino's team – from goalkeeper Hugo Lloris to Christian Eriksen and Mousa Dembele in midfield and Dele Alli, Son Heung-min and Harry Kane further forward – Tottenham have some very human flaws.
And, once again, when talk of the big prize reared its head after a Champions League campaign of measure and maturity, Spurs showed the weaknesses that meant they failed to finish the job.
Hopes had been raised by their performances in the competition.
Tactical maturity earned them a draw against Real Madrid at the Bernabeu before the holders were overpowered 3-1 at Wembley, and they held their nerve to come from two goals down to earn the draw in Turin that had put them in a position of advantage over Juve going into Wednesday's game.
And yet, even after Son's goal just before half-time had strengthened their control, Spurs allowed the match – and their Champions League hopes – to slip through their grasp as 'The Old Lady' of Italian football showed experience, street-wisdom and resilience that is as yet beyond the north London side.
"A few years ago we were in the same place," observed inspirational Juventus defender Giorgio Chiellini afterwards. "Reaching two finals in the past three seasons helped us to better handle these kinds of games."
Tottenham's players slumped to the turf at the final whistle, the gracious post-match smiles of Pochettino disguising the pain the Argentine must have felt as another opportunity to move closer to his first trophy was missed.
This will hurt. Badly.
It will raise old questions about this Tottenham side and their failure to win a trophy. Style is not yet making up for a lack of actual substance when it comes to silverware.
Yet when this pain subsides, all at Spurs should then keep their nerve and recognise this latest setback as a bump in a road which still promises to lead to success eventually under Pochettino.
They have performed superbly in this season's Champions League but were ultimately killed off by two chances in three minutes. The margins among Europe's elite are that fine.
Former Premier League striker Chris Sutton, an analyst at Wembley for BBC Radio 5 live, said: "It is important now that there are no wild or stupid reactions. Spurs and Pochettino are building a special group and it will come.
"Spurs are a young and improving side – they are only going to get better.
"It will feel sore but you have the look at the opposition – they hardly concede. It is a learning experience and that is knockout football at its most brutal."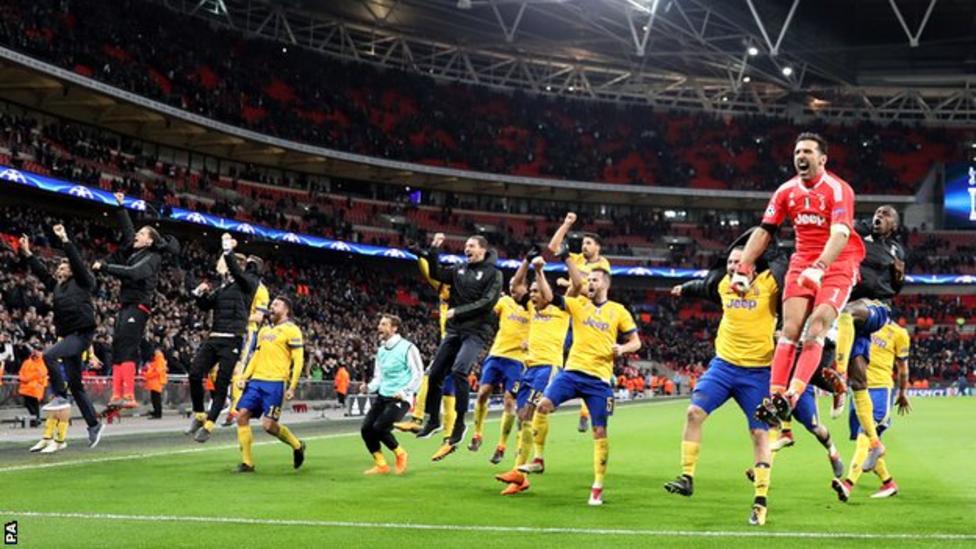 Time to banish the 'Spursy' tag
It is the cruellest cut – the jibe that hits home every time Tottenham slip up when the going looks good.
"Spursy" – the ability to snatch defeat from victory, to turn advantage into disappointment. You get the idea.
As Pochettino shook hands with his Juventus counterpart Massimiliano Allegri, history was revisited.
Tottenham finished third in a two-horse Premier League race behind Leicester City and Arsenal in 2015-16, were runners-up to Chelsea last season and also lost an FA Cup semi-final to Antonio Conte's side last year.
Juventus defender Chiellini hinted at it after Wednesday's game when he said: "It is the history of Tottenham. They always create many chances and score so much, but they miss something at the end."
When measured in trophy terms, the much-derided (even by his own Arsenal fans) Arsene Wenger can boast three FA Cup wins in the past four seasons.
Tottenham's last silverware was the League Cup under Juande Ramos in 2008.
Pochettino regards the Premier League and the Champions League as the big trophies. He will not be winning those this season, which intensifies the focus on the FA Cup.
Spurs have a quarter-final at resurgent Swansea to go with the pursuit of a top-four place in the league, but the urgency has now increased for their manager to get tangible reward for his fine work since arriving from Southampton in May 2014.
The Argentine has assembled a team of great promise – but eventually that promise must be turned into trophies. It is what top teams do and Tottenham's time must be now.
Pochettino still looks to bright future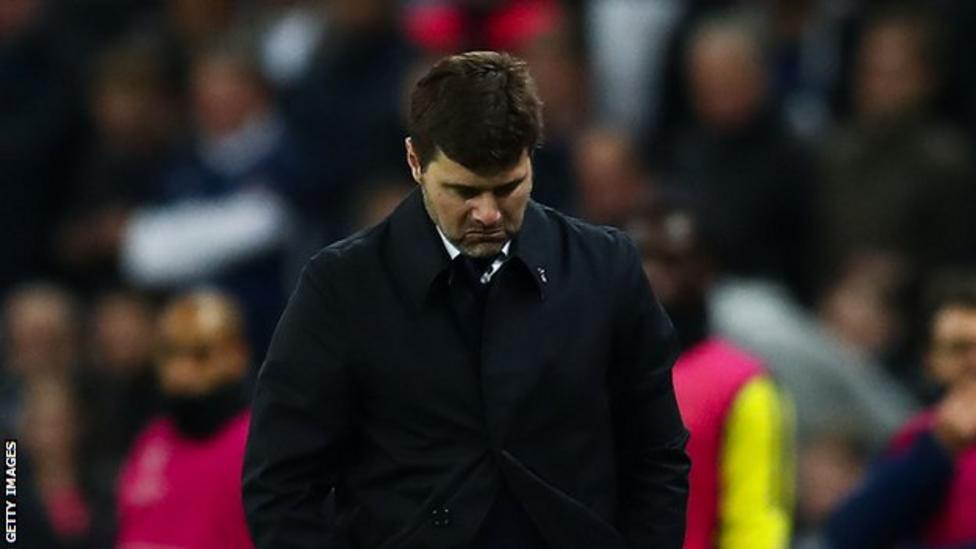 If Spurs can keep this squad together – and, for all the speculation, Harry Kane shows no immediate signs of being unsettled at the club he regards as his own – then surely their barren spell will end soon.
Sutton, a regular observer of Tottenham this season, says: "I was talking to Spurs fans around the stadium before kick-off and there was an excitement about where they are at this moment in time.
"It wasn't unrealistic to say Spurs could have won the Champions League. They are an improving young side. Spurs are only going to get better.
"It's one loss, a bad loss. It will feel so sore but in my lifetime I cannot remember Spurs building something like they are now."
The promise and the words of expectation will be no consolation as they sift through this loss, but Tottenham are still heading in the right direction under the guidance of Pochettino.
And if they do win a trophy, then not only will the relief be huge for manager, players and fans, but they will have started to accrue the type of experience that helped Juventus defeat them on Wednesday.